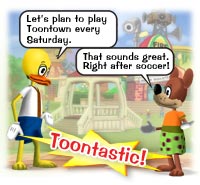 The Toon Council really hopes that everyone is enjoying SpeedChat Plus. We have been listening to your feedback and based upon your comments, we have made some updates to this great new feature.
Toon animal sounds are back! You can now manage Type Chat sounds in the Options page of your Shticker book.
Toons with the "Open Chat with True Friends" feature can now group whisper to just their True Friends. To do so, click the Alt key and the Enter key at the same time when sending your message -- and only your True Friends within your immediate vicinity will hear you.
Also, we want to remind players that SpeedChat Plus is open to everyone -- including free Players. So if you haven't activated SpeedChat Plus yet, grab a parent and click the link below to get started!